How to Get the Most Out of Your Bridal Makeup Trial: 5 Tips for Brides to Be
Pro Tips from Top Bridal Makeup Artist Ashley Fierro for Dermaflage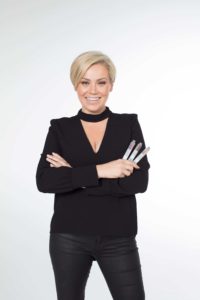 You've found a makeup artist for your wedding day and booked a trial run. Now what? The bridal makeup trial is your opportunity to find your best wedding day beauty look and to make sure you've selected the right artist to create it for you, so make the most of it. As the makeup artist to over 100 luxury brides every year, I've discovered a few ways to make the makeup trial a positive and valuable experience – and a fun one – for the bride. Here are some of my tips:
I always ask my clients to bring photos of makeup looks they like and even looks they don't like so we have a baseline of their style and preferences.  It's also helpful to bring photos of themselves that they like of them wearing makeup. It doesn't have to be a headshot or a photo from a formal event – I've seen Facebook profile pics that are great examples of someone looking beautiful, confident and happy. As the saying goes, a picture is worth a thousand words, and photos are the easiest way to convey your vision to your makeup artist. It's worth your time to search for the right images, since your version of a smokey eye or strong brow is usually very different from the artist's version. However, don't let this step overwhelm you! If you're not sure what makeup look you want for your big day, you should still bring photos of what you like. This way, you and your makeup artist will have a starting point, even if it's just an element of the makeup you're drawn to.
Your wedding day beauty should be a collaboration of your preferences and the artist's expertise.
Communication is key! Often, a client sits down in the makeup chair believing that the artist can read her mind and create the exact bridal makeup look she's dreamed of, but that's often a recipe for disappointment. That's why talking to your artist is just as important as sharing the right pictures with him or her. If the artist is not asking you a million questions, make sure you are relaying the vibe of the beauty style you want. Show your artist your wedding dress, what your bridesmaids are wearing, the color palette, and describe the overall theme of your wedding. If the artist has a clear vision of what your wedding will look and feel like, you won't risk walking down the aisle in a red lip and winged eyeliner at your bohemian-style wedding! It's also helpful to show or explain your everyday makeup look, how you change it up when you go out, and any specific beauty insecurities or issues you are concerned about. Getting to know you, your style, and your personality makes it infinitely easier for your artist to create a look that's completely "you."
I always take a few pauses throughout my trials to show the bride her makeup at different stages, to make sure that she and I are on the same page.  Of course, this isn't the final look, but if we've gone off the rails, it's better to know that sooner rather than later! So make sure you ask to take a look throughout the application process. Otherwise, if you've sat waiting for the Big Reveal moment at the end, don't be surprised when the artist turns your chair around and he or she has totally missed the mark.
Make sure you like your artist!
Let's say you believe your makeup artist is a beauty genius…but her people skills are lacking. You may be tempted to look past her personality flaws and focus on her makeup expertise instead. My advice to you is to keep looking for a makeup artist who you like. Just think, he or she is the very last person you will be interacting with before you get into your dress and get married – it's important that they shower you with nothing but positive energy! No matter how talented they are, if the makeup artist gives you a strange vibe, if you feel like they are rushing you, or they don't seem to have your best interest in mind, take the time to start searching again for the right person – an artist who you mesh with, who respects you, and who "gets" you. Finding the right person is almost always worth the extra time and money.
Talk schedule & bridesmaids…and don't forget the MOB look!
During your bridal makeup trial, you'll have your artist's undivided attention. Take that opportunity, as you are getting to know each other, to ask about a few logistical things – like scheduling.  Ask your artist for details such as how much time they dedicate to the bridesmaids, the mothers of the bride and groom, and for the bride. Run through the size of your bridal party and the starting time of your event and ask your artist what your schedule will look like. Be sure to ask how your makeup schedule will work with your hairstylist's schedule, too.
Even if you don't book them, start the discussion about what you want in terms of looks for your bridesmaids or to alert them that your future mother-in-law's signature is her frosty green eye shadow and that you prefer that she doesn't wear it on your wedding day. If you end up hiring them, you'll have a head start on styling your wedding look.
One last word of advice regarding bridal beauty:
Remember, bridal makeup artistry takes more than makeup skills – it's about managing the look, time, nerves, and personalities of all your family and friends in your wedding party. Make sure you're confident that your artist can handle it all flawlessly!